MATCH REPORT: BEDWAS 17 NEATH 22 – SATURDAY 25th FEBRUARY 2023
BEDWAS  17  points  NEATH  22  points
The collective strength of the All Black eight forwards paved the way for Neath's 11th bonus-point win of the season – and the double over a stubborn Bedwas side.
There may have been an earthquake in Abertillery on Friday night but there was nothing seismic about this Neath display on an afternoon of endurance rather than excitement in cold, blustery conditions at the Bridge Field.
Playing uphill into the wind, the Neath forwards were soon on top but on seven minutes Bedwas broke out and got the first points on the board via a penalty by outside-half James Dixon.
Neath responded immediately and, from lock Sam Langford's lineout take on the 22, the visiting forwards mauled their way irresistably to the line where No.8 David Griggs got the touchdown for an unconverted try which made it 5-3.
The Blacks remained on top but Dixon and Cardiff centre Will Keep inspired a breakout and scrum-half Luc Jones was yellow-carded.
Numerical advantage counted when a neat Dixon cross-kick was gathered by wing Aaron Billingham who slipped sole defender winger Aled Brew and the impressive Keep was on hand to give Bedwas the lead which was extended to 5-10 by Dixon's conversion.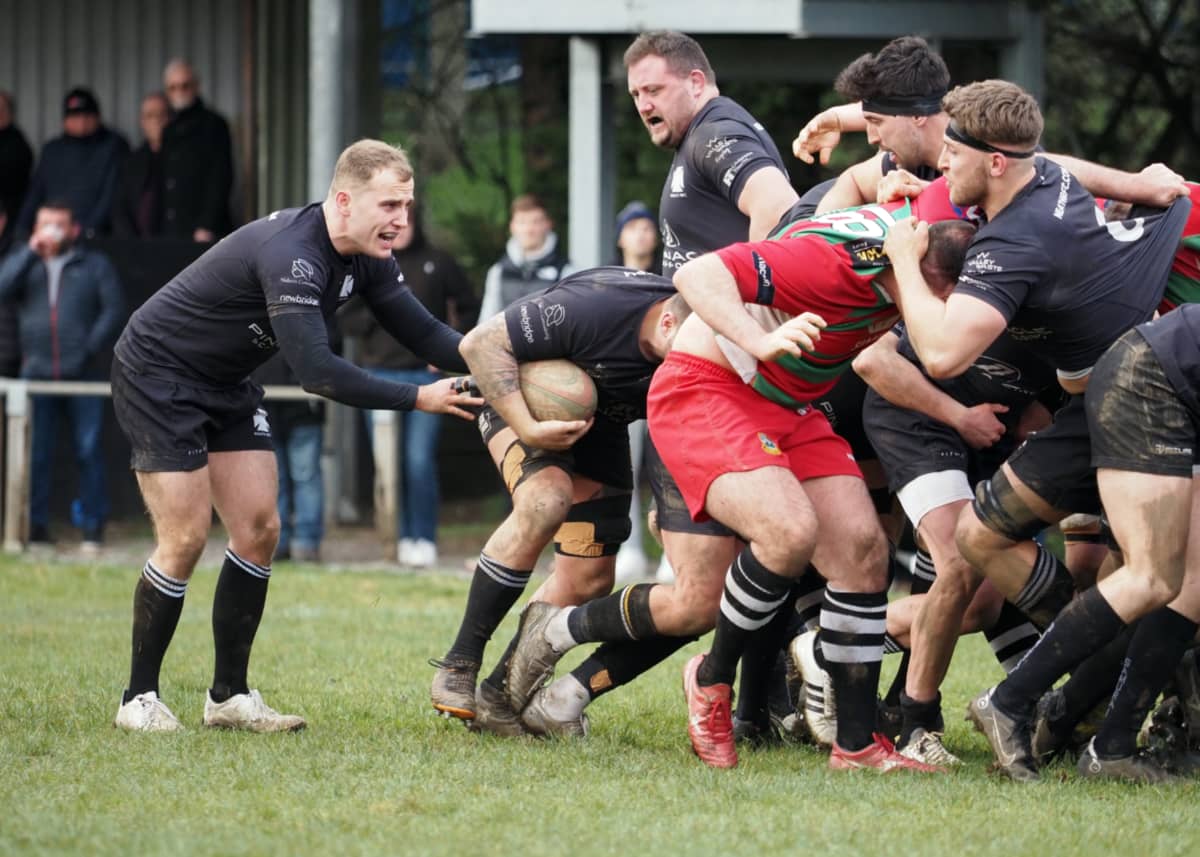 Neath dominated the forward exchanges but all too often their sustained periods of possession were wasted when the last pass was found wanting.
As halftime approached, the visiting forwards pack asserted themselves, this time lock Jon Barley's good work was seized upon by his fellow forwards who steam-rollered their way to the line.
Bedwas collapsed the maul but the referee deemed no yellow-card, just a penalty and from the resultant lineout, once again Langford's lineout take was driven on and David Griggs bagged his second try which outside-half Rhys Harris improved upon to give Neath a well-deserved 12-10 halftime lead.
Neath supporters – much in the majority in a small international-hit crowd – saw the Blacks start the second-half more purposefully and David Griggs touched down again but he was denied a hat-trick and was penalised.
Bedwas indiscipline cost them dear as talkative scrum-half Callaghan Smith and lock Harry Oliver were binned before Neath flanker Owain Morgan appeared to have been driven over and Neath were penalised at the consequent scrum.
But the pressure told when Rhys Harris acrobatically caught the loose kick, the forwards retrieved for Luc Jones and good hands by Morgan, centre Ryan Evans, Harris, hooker Josh Clark, prop Tim Ryan and ultimately full back Lewis Evans worked winger Aled Brew over in the corner to make it 17-10.
Two minutes later the former Wales international intercepted an ill-judged pass and fed skipper Ryan Evans backing up on the inside and he raced in unopposed to score Neath's fourth try but neither try was converted and it was 22-10.
Laboured back-play around their own 10-metre line then let in Bedwas with a penalty to the corner, flanker Morgan Kneath impeded their progress but was yellow-carded and the referee awarded a penalty try – not altogether incorrect but a little surprising in view of matters at the other end.
Neath surged back onto the attack, the referee played advantage and winger Louis Rees,  was frustrated after collecting a perfectly-placed Rhys Harris cross-kick and dabbing down but was deemed to have been in front of the launcher.
Bedwas were doing everything to keep Neath out and with the referee playing  advantage five metres out a minor scuffle after a late barge resulted in Rhys Harris and Sam Davies being next to be despatched to the naughty step and Bedwas received  a penalty.
Most of the remaining play was then confined to the Bedwas half where a fast-moving Neath maul was collapsed in the 22 only for the home defenders to gain the benefit.
The visiting forwards remained on top to the end of a scrappy affair as Bedwas held on for a bonus point and, despite it being another five points in the bag for Neath, it was not a satisfactory display by the Blacks who were nevertheless pleased to see Lewis Evans, Aaron Bramwell and Carwyn Sion safely through their injury comeback games.
But the Blacks know they will have to do better – much better – if they are to succeed at Narberth next Saturday.
BEDWAS – L.Wilkins; A.Billingham, I.Burgwin, W.Keep, L.Jenkins; J.S.Dixon (S.Davies), C.Smith (D.Morgan); B.Drew (J.Rogers), R.Hutcherson, K.Phillips; B.Sier, H.Oliver (M.Bovington); R.Jones (W.Fishlock), D.Rogers (capt), R.Morgans
NEATH – L.Evans; A.Brew (B.Atkins), R.Evans (capt), A.Bramwell, L.Rees; R.Harris, L.Jones (M.Griffiths); J.Powell, J.Clark (S.Crocker), T.Ryan; S.Langford, J.Barley; M.Kneath, D.Griggs, O.Morgan (C.Sion)
Referee – Mr. S.Allsop (Bristol)
Images courtesy of Len Kowalski www.lensworkphotography.co.uk
@NeathTog