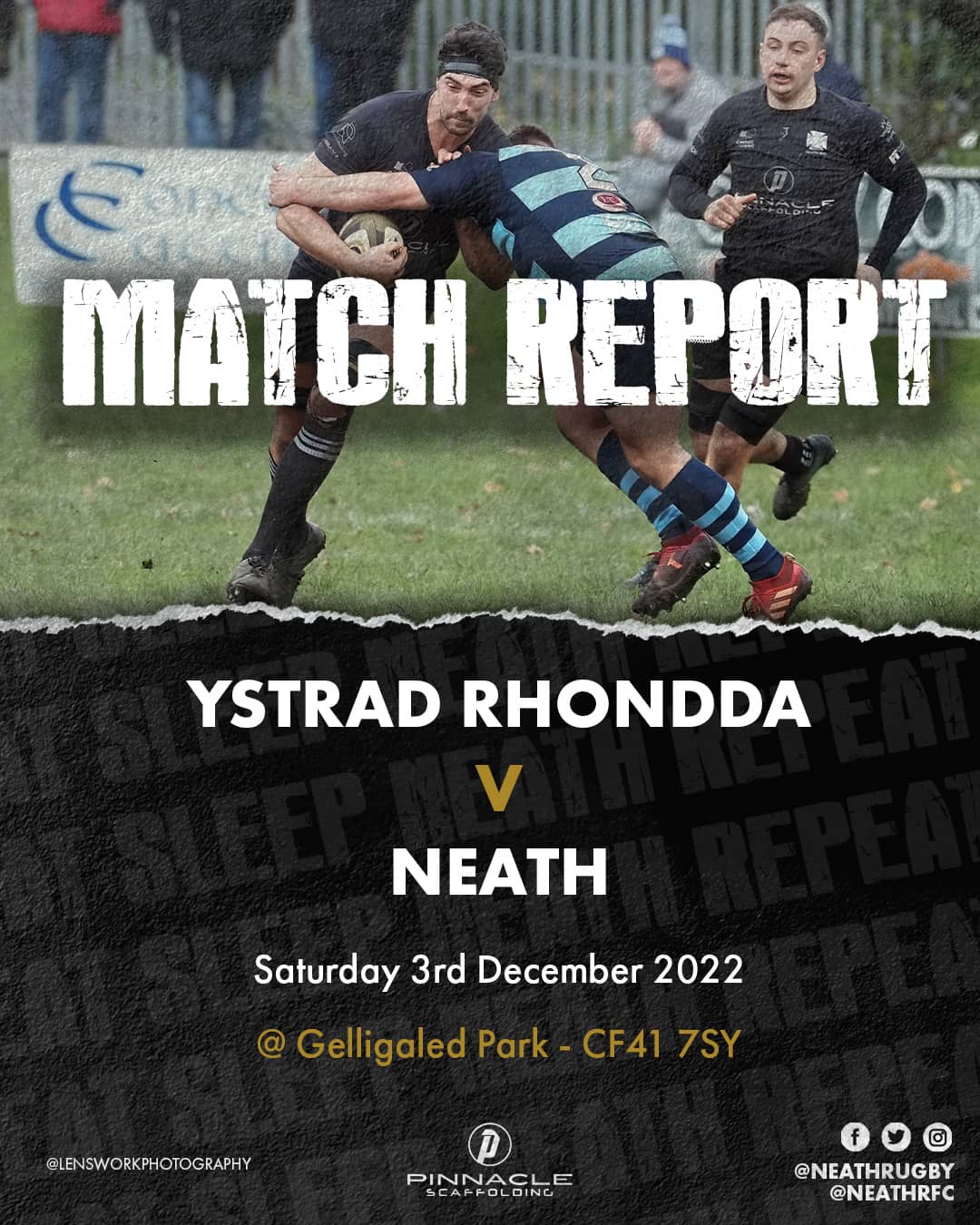 MATCH REPORT: YSTRAD RHONDDA 22 NEATH 29
YSTRAD RHONDDA  22  points  NEATH  29  points
Neath had to battle to the end to gain a vital bonus-point win at Ystrad Rhondda who gave their all in a splendidly competitive match at cold but mercifully dry Gelligaled Park which echoed to supporter shouts and the blast of air-horns and vuvuzelas which did much to enhance the atmosphere.
Rhondda rugby holds a fond place in Neath RFC history – there were train journeys through the mountains for games against the likes of Ferndale, Llwynypia, Penygraig, Treherbert and Treorchy at the turn of the last century when there was always a "Rhondda forward" or two contributing to the pack in Wales' first Golden Era.
The current Ystrad Rhondda side are up-holders of that tradition and Liam Wiggins and his men scrapped up front and displayed plenty of inventive back-play too as both sides shook off the cobwebs after the destructive international break.
Ex-WRU Chairman Robert Butcher was an interested spectator to see Neath soon into their stride and, after centre Ben Atkins spilled what should have been a scoring pass, tremendous work by the forwards set up excellent scrum-half Nicky Griffiths
.
He created the space to free wing Jonny Bayliss who finished well for his fifth try of the season and Steff Williams' magnficent touchine conversion made it 7-nil.
But Neath dawdled at the kick-off, Ystrad tapped back and set their backs in motion, quick hands freeing former Pontypridd and Wales Sevens wing Alex Webber who raced to the line for a perfect riposte and outside-half Jacob Symes converted to level at 7-7.
More powerful work by the Neath forwards earned the Blacks a penalty which Steff Williams landed to make it 10-7 before Ystrad attacked and, with the referee playing advantage, Symes booted the ball to the far in-goal area where full back Josh Williams kept a cool head and made the most of a kind bounce to grab Ystrad's second try which gave them the lead briefly at 10-12.
On-looking Cardiff coach Gruff Rees must have been impressed by the home side's young Blues midfield trio of Symes and centres Cobi Green and McCauley Rowley who looked sharp but it was the Neath forwards who held sway.
The lineout was not functioning as smoothly as it ought but when it did Ystrad had difficulty coping with the energy and drive exerted by the Blacks eight.
After three "strays" including one just five metres out, Neath had another chance and drove the home pack back fully 20 metres for hooker Sion Crocker to dab down and restore Neath's lead at 17-12.
On 25 minutes, the referee brought play back following a scuffle amongst the forwards – which was a pity as the Neath backs were away and in a promising position.
However, five minutes later, Neath's well-rehearsed forward drill set up Sion Crocker who crossed for his second try – remarkably it was his 10th of the season.
Laws and and consequently tactics have changed of course but, as the popular front-rower nears his 200th game for the Blacks, he is now just one short of equalling the legendary Kevin Phillips' record for a Neath hooker of 11 tries in a season set in 1988/89.
The Blacks led 22-12 at the interval but the second-half started disastrously for Neath when, from the kick-off, No.8 David Griggs boomed a pass way over Steff Williams' head and the outside-half only just got back in time to minor.
It set the tone for a rather careless half from the Blacks who spoilt much good approach work with some loose handling as Ystrad refused to be subdued.
Neath replaced injured full back Lewis Evans with young Rhys Harris and a scything attack was taken on by flanker Owain Morgan who made it to the shadow of the posts before being tackled and Neath then lost the ball.
Ystrad were able to counter and were still very much in the battle. They put Neath under pressure and were rewarded when No.8 Mason Roderick applied the touchdown after a series of scrums and Symes converted to bring it back to 22-19.
But Neath blazed back when impressive flanker Jacob Blackmore seized upon an Ystrad lineout throw to set the Blacks going again and the attack ended in No.8 David Griggs forcing his way over at the posts for the visitors' bonus-point try, Williams' conversion extending Neath's lead to 29-19.
Ystrad were not done though and swung right back into it when young Symes landed a penalty to bring them back into contention – and bonus point territory at 29-22.
The home side pressed and pressed for another score to dent the WRU Championship leaders but Neath, reduced to 14 men following the yellow card given to prop Gareth Lloyd who barely had time to get warm, just about held them at bay courtesy of some over-enthusiastic play by the home side.
By the final whistle, it was plain to see how Ystrad Rhondda went so close at Pontypool Park – closer than this actually at 25-28 – and they will surely climb the table with a string of winnable home games to come either side of Christmas.
Meanwhile, Neath clearly have work to do at training ahead of their return home next week with the always demanding visit of Maesteg Harlequins to The Gnoll on Saturday (kick off 2.30pm).
Supporters are advised to get there early !
YSTRAD RHONDDA – J.Williams (C.Davies); A.Webber, M.Rowley, C.Green, K.Williams; C.Symes, C.Phillips (J.Harris); T.Foulkes, L.Wiggins (capt) (C.Evans), D.Webb (J.Pritchard), N.Hughes, M.Burgess (M.Smallman); R.Dauncey, M.Roderick, J.Llewellyn
NEATH – L.Evans (R.Harris); R.Griffiths, R.Evans (capt), B.Atkins, J.Bayliss; S.Williams, N.Griffiths (M.Griffiths); J.Powell (G.W.Lloyd), S.Crocker, T.Ryan; M.Davies, J.Barley; J.Blackmore, D.Griggs, O.Morgan (E.Hopkins)
Referee – Mr. S.Allsopp (Caldicot)
Images courtesy of Len Kowalski www.lensworkphotography.co.uk
@NeathTog