MATCH REPORT: NEATH 14 points RICHMOND 31 points – August 19th 2023.
Hard as Neath battled, the superior efficiency of Richmond saw them through to a deserved victory in the Blacks' second warm-up fixture on a pleasant Saturday evening at The Gnoll.
After Neath's handsome opening 52-14 win over Builth Wells, three newcomers were introduced in centre Kieran Charles, lock Cai Arnold and flanker Ben Williams and all did well.
Richmond too had a number of players on debut as they have re-vamped their squad following relegation from the RFU Championship last season and they evidently have sufficient talent to suggest a quick return.
No league points were at stake but this was a very keen contest which will have done the Blacks good in their preparations for the season as Richmond set a demanding standard for them to emulate.
Outweighed up front, Neath nevertheless took the game to Richmond with a relish and dominated the first-half hour, spurning a number of straightforward penalty kicks in favour of perfecting their line-out drives.
With several regular forwards missing, that aspect of play was not as productive as it might have been and on half a dozen occasions the Blacks' forwards launched close-range attacks but were held up by a very well-organised blanket Richmond defence.
When hooker Sion Crocker was yellow-carded for a retaliatory push, play switched to the other end and the inevitable happened as Richmond gave the Blacks a first lesson in clinical execution and, although Neath initially countered the maul-drive, Richmond's veteran captain and much-travelled No.8 Mark Bright was driven over for a try which ex-Loughborough outside-half Tom Smith converted.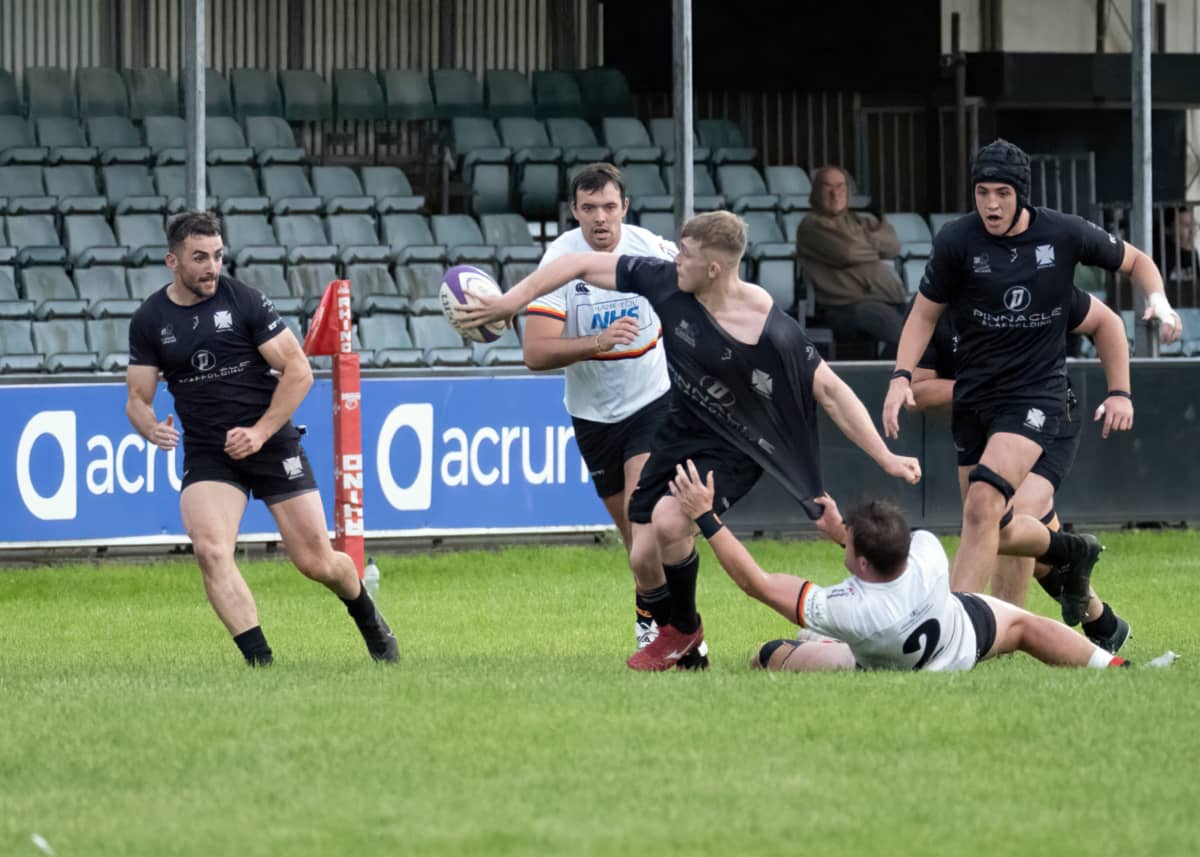 The penalty count against Neath began to rise as the adjusted tackle-height laws took their toll. It look as if they will cause confusion – different heights will apply below the Welsh Premiership and the English Championship so have some sympathy for poor referees who flit between both levels ! The lower level was applied in this game … to Neath's clear disadvantage.
It was from a penalty award that Richmond scored again when prop Jimmy Litchfield was bundled over on the stroke of half-time and it was nil-12 at the interval.
Neath resumed eager to make good the deficiency but 13 minutes in Richmond struck again, 13 men in the maul, for a try by Cam Flavell.
Hard as Neath continued to compete, their ambition got the better of them when alert Richmond flanker Xav Hastings pounced for a kick, chase and bounce try; the scoreboard operator added the two points although the conversion was badly hashed and appeared to go outside the left upright.
Defiant Neath were far from done though and they hit back with a debut try by impressive flanker Ben Williams from a quickly taken penalty and outside-half Kristian Jones' conversion made it 7-22.
The Blacks refused to roll over and their comeback continued when they conjured up the best try of the night when good combined play saw Williams put replacement wing Josh Congreve in for a spectacular second try and Kristian Jones' conversion brought it back to 14-22.
However, any hopes of Neath overhauling the lead disappeared when an over-ambitious flip in midfield fell into the grateful grasp of visiting full back Max Bliss who went in under the posts for a try converted by Butler.
Neath fought to the end though and might have scored another try when replacement flanker Fletcher Barry was called back for an earlier knock on.
Defeat it may have been but Neath can learn much from this reverse – fitness levels look adequate and the mobility of most of the forwards kept Neath going, the return of a couple of their regulars will surely help restore cohesion to the forward effort and behind the scrum there are signs that Neath will be improved this season.
But victory went to Richmond who closed down Neath's attackers and pounced for those scores in an object lesson of efficiency.
Neath now move on to their third and final warm-up game at The Gnoll on Thursday evening when old friends Swansea visit for a 7.15pm kick off.
NEATH – L.Evans (L.Rees); J.Hutchings, R.Evans (capt) (J.Congreve), K.Charles (B.Atkins), R.Griffiths (T.Weekley); K.Jones, E.Horgan (B.Wood); J.Powell (E.Hopkins), S.Crocker (C.Morris) (E.Kneath), G.W.Lloyd (T.Dabeh) (T.Ryan); C.Arnold, J.Blackmore; B.Williams (G.Tremlett), C.Sion (F.Barry), F.Kneath
RICHMOND – W.Kaye; A.Omeara, J.Caddy, H.Cheeseman, C.Byrne; T.Smith, L.Jones; C.Maguire, A.Post, J.Lichfield; J.Monson, M.Murphy; D.Massey, M.Bright (capt), T.Saysell Repl. M.Bliss, J.Whitehouse, H.Graham, E.Landray, T.Biggs; A,Butler, R.Butler; V.Bentley, C.Flavell, L.Spring, C. Te Mete, G.Nugent, E.Benson, H.Breeze, X.Hastings
Referee – Mr. D.Phillips (Aberystwyth)
OTHER SCORES OF INTEREST
Abercynon 12 Beddau 29, Aberystwyth 12 Builth Wells 34, Betws 12 Cwmgwrach nil, Brecon 10 Newport 41, Bridgend 26 Llandovery 19, Canterbury 43 London Welsh 19, Cinderford 34 Pontypridd 40, Clifton 26 Ebbw Vale 38, Carmarthen Quins 13 Cambridge 17, Cross Keys 14 Narberth 37, Dings Crusaders 28 Bargoed 17, Glynneath 22 Glamorgan Wanderers 19, Morriston 17 Swansea 57, Rhydyfelin 21 Bonymaen 24, Rumney 22 Dunvant 21, Tonna 27 Bryncoch 35, Tondu 30 Maesteg Quins 12, Trebanos 28 Newbridge 24, Waunarlwydd 21 Ystalyfera 21, Ystrad Rhondda 14 Aberavon 48
NEXT GAME – NEATH v SWANSEA – Thursday, August 24 (Kick Off 7.15pm)
Images courtesy of Len Kowalski www.lensworkphotography.co.uk
@NeathTog